Ray Rice Situation Supports Need for Court Reporters in NFL Hearings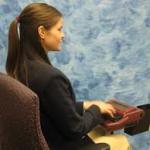 Anyone who follows football understands that the National Football League is the king of professional sports leagues in this part of the world.  This is a league that makes headlines for things that happen both on and off the field.  While we're in the midst of a very exciting season that will most likely lead to a riveting level of competition in the playoffs, we were once again reminded of one of the more appalling stories that broke over the summer during the Thanksgiving weekend.  That story involved running back Ray Rice and his wife Janay.
By now, most if not all of us have seen the horrifying video of Janay Rice (then Janay Palmer) being struck in the elevator of a casino and falling to the ground unconscious.  The NFL claims that it did not see that video until after it had initially suspended Ray Rice for two games based on seeing the video of the aftermath of the blow.  NFL Commissioner Roger Goodell stated after that second video was released it became clear that Ray Rice was not completely honest with him during their initial investigation and therefore he suspended Rice indefinitely.  That decision was taken to an arbitrator by the Rice camp, and late last week that arbitrator ruled that Ray Rice should be reinstated immediately.
An article discussing the arbitrator's decision can be found here, and neither the article nor the wording of decision is kind to Mr. Goodell.  The arbitrator basically stated that she did not believe the account of the events during the disciplinary process that Goodell had provided for her and ruled in favor of Ray Rice.  While all of this has been happening, the NFL has come forth with a new policy that states that a player involved with domestic violence will be suspended for six games.  A second situation can lead to a lifetime ban from the NFL.  Not only did this policy not apply to Rice since it was not in place at the time, but the arbitrator ruled that the second punishment given to Rice was arbitrary and beyond the powers of the commissioner.
How This Could Have Been Avoided
One of the more overlooked facts of this terrible situation is that the NFL does not have a court reporter or stenographer present during these disciplinary hearings.  No one is sure why that's the case, but not having a transcript of what was said during the NFL's meeting with Rice may have led to many of the problems the NFL ultimately encountered.  Having a record will protect those involved and it will protect the process itself.  Failing to have a transcript will only lead to competing verbal statements and uncertainty that can be very costly.
If you are in a position where you handle disciplinary or any other types of hearings, you need to protect yourself and others involved in these processes with a court reporter.  To learn more about how this can be done, contact the Georgia court reporters at Elizabeth Gallo, LLC today.